Back when I was reading blogs from the outside looking in, I loved reading people's WIAW posts. Is that weird? I think it's so interesting to see how other people eat on a day to day basis. I can't believe I have yet to do a WIAW on my blog yet, so today seemed as good as any other day to start.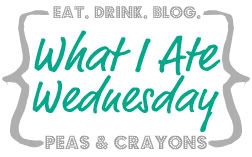 Breakfast: I'm a big fan of mixing cereals. Don't ask me why I do this or how I started it. I think I just like taking a cereal that is kind of more bland in taste and pairing it with a cereal that has a sweeter taste. I trick myself into eating healthy cereals this way!
I also had a glass of milk because I must drink milk every morning. MUST.
Lunch:
For lunch I had a BBQ Ranch chopped salad (so, so good) and some Triscuits.
Snack #1: Kiwi
Snack #2: I teach spin every other Tuesday, so I only have about an hour between getting off work and going to the gym to teach. I threw together this little green goddess smoothie (almond milk, collard greens, spinach, peanut butter, honey) to hold me over through spin class.
Dinner: Since I don't get home until close to 8 on the nights I teach spin. I like to keep dinner very basic and easy. Last night, I had salmon and sweet potato gnocchi and another salad.
I cooked the salmon in my infrared oven, so it sadly burned the outer crust, but the salmon itself was still good (just made for a crappy picture).
So, there are my eats!
What did I learn from my first WIAW? I need to work on my food photography skills. Like for real!
What was your favorite meal yesterday?
Any tips on food photography for me?
Don't forget! Today is the last day to enter the Custom Button Monogram Giveaway. Enter here!
Thanks for installing the Bottom of every post plugin by Corey Salzano. Contact me if you need custom WordPress plugins or website design.